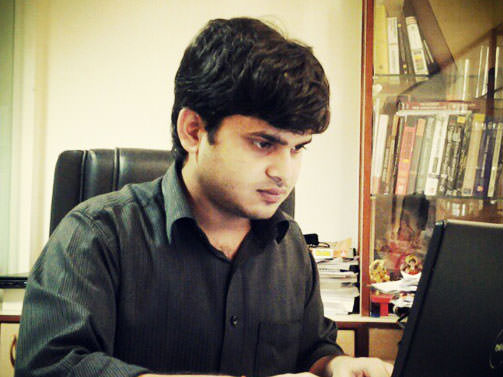 Toshendra Kumar Sharma (Founder)
I am founder of Robosapiens and author of Robotics with AVR. I have more than 5 years experience in Cyber Security. I have delivered 150+ Workshops on Ethical Hacking & Embedded System (Including 3 IITs, NITs and many reputed Govt. and Private Colleges)

Education:
M.Tech

in Computer Science and Engineering from IIT Bombay.
Awards and prizes:
2 times Junior Scientist Awardee by National Science Congress.
Ist Prize in National Level Robotics Challenge at IIT Bombay in Techfest 2005.
14 First Prizes, 6 Second Prizes and Many Third prizes in programming & technical contests in many technical festivals in engineering colleges of India.
Research and Academic Projects
Ettercap & ARP Poisioning @ IIT Bombay:
The project aimed to make a defense mechanism for ARP poisoning.
Project uses ARP Cop pluging with slight modification for detecting the IP Change.
DNS & DNSSEC, Problems & Solutions Seminar @ IIT Bombay:
Detailed analysis of DNS Protocol.
Practical implementation on Kaminsky Attack using Metasploit.
Vulnerabilities & Problems in DNSSEC.
Replay Attack in DNSSEC.
Attacks on Bluetooth Devices @ IIT Bombay:
Detailed analysis Bluetooth protocol.
Practical implementation on Carwhisperer Attack.
Vulnerabilities & Problems in Bluetooth.
Privacy locker 1.1 (Firefox Addon):
The Primary Objective of privacy locker was to lock the privacy contained menus of the mozilla firefox browser. The Locker can lock the three menus History, Bookmarks and Tools menu with a password.
Online link of the Addon is https://addons.mozilla.org/en-US/firefox/addon/10637/
Minos: Control Data Attack Prevention Orthogonal to Memory Model:
Microarchitecture for protecting against control data attacks.
A substitute of AS/400 Technology.
SQL Injection Vulnerability in pkmotors.com:
Found SQL Injection vulnerabilities in pkmotors.com
Found SQL Injection in tartanarmy.com
Cold Boot Attack:
Recovering encryption key of RSA from DRAM using cold boot attack.
Dumping RAM into USB Drive using SYSLINUX.
Side Channel Attack.
Business Startups
Robosapiens Technologies Pvt. Ltd., Noida.
Wegilant Net Solutions Pvt. Ltd., Mumbai.
iSecLABz, Noida.
Bootcamps, Mumbai.